2020/09/11
ththreezero is proud to announce that there will be a collaboration with Takayuki Takeya for our new threezeroX project!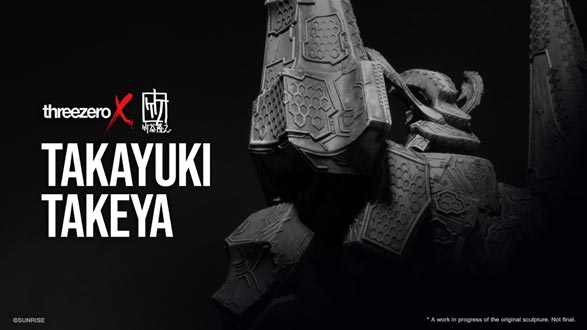 PROFILE OF THE ARTIST:
Takayuki Takeya is a sculptor who was born on December 10th, 1963, in Hokkaido, Japan. He graduated from Asagaya College of Art and Design, and specializes in character design, creature/mechanical design, collaborative redesign, and sculptures for various mediums including films, exhibitions, games, and toys.
Takeya worked on the character designs for the movie Shin Godzilla (2016) and on the original sculpture of the Giant God Warrior in the short film Giant God Warrior Appears in Tokyo (2012). He also created the original sculptures and supervised the models for the Ghibli Expo: Nausicaä to Marnie exhibition's "The World of the Ohmu" section.
PRIMARY PUBLICATIONS OF THE ARTIST:
The Hunter's Angle: The Complete Supplement Revised Edition (Kodansha)
Takeya Takayuki RevoTake Origin (Futami Shobo)
Takeya Takayuki Drawings, Arrangement and Design (Graphic-sha)
ROIMUDE: Takeya Takayuki Kamen Rider Drive Designworks (Hobby Japan)
Molding of Fear (Genkosha)