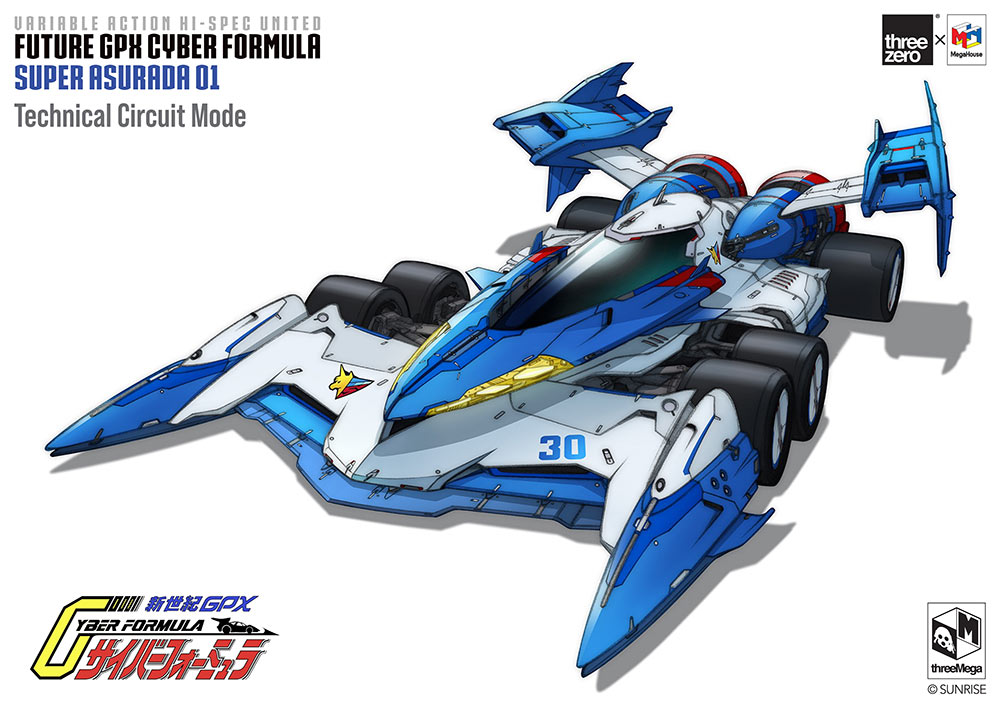 Following the first groundbreaking vehicle model "VARIABLE ACTION Hi-SPEC UNITED ASURADA G.S.X", threezero and Megahouse's collaboration brand "threeMega" is thrilled to announce our second collaborative item to be made based on the anime Future GPX Cyber Formula: the "VARIABLE ACTION Hi-SPEC UNITED SUPER ASURADA 01"!
threeMega's SUPER ASURADA 01 is redesigned by threezero creative director Kelvin Sau. While keeping the beautiful original form created by the master of mecha designs "Shoji Kawamori", Kelvin who is honed in his craft with many years of mecha design experience, has added mechanical details to offer the racecar a vivid and innovative new presentation. Not only that, Kelvin's redesigning involves making this figure into a fully transformable machine! Kelvin and the development team has made this SUPER ASURADA 01 to be able to fully transform between three modes: Technical Circuit Mode, Rally Mode, and Aero Mode. It accurately replicates the memorable scenes from SUPER ASURADA 01's appearance in the anime. The body of SUPER ASURADA 01 is mainly made of zinc alloy (die-cast), POM, and ABS. The die-cast enhances the weight and durability of the vehicle and is combined with engineering plastic at the movable joints in order to increase the functionality of moving parts.
Please look forward to more news of VARIABLE ACTION Hi-SPEC UNITED SUPER ASURADA 01!