Zao Dao is a passionate Chinese artist who was born in the 1990s. She has created many artworks which contain dreamscapes evoking strong senses of calmness, peacefulness, and courage.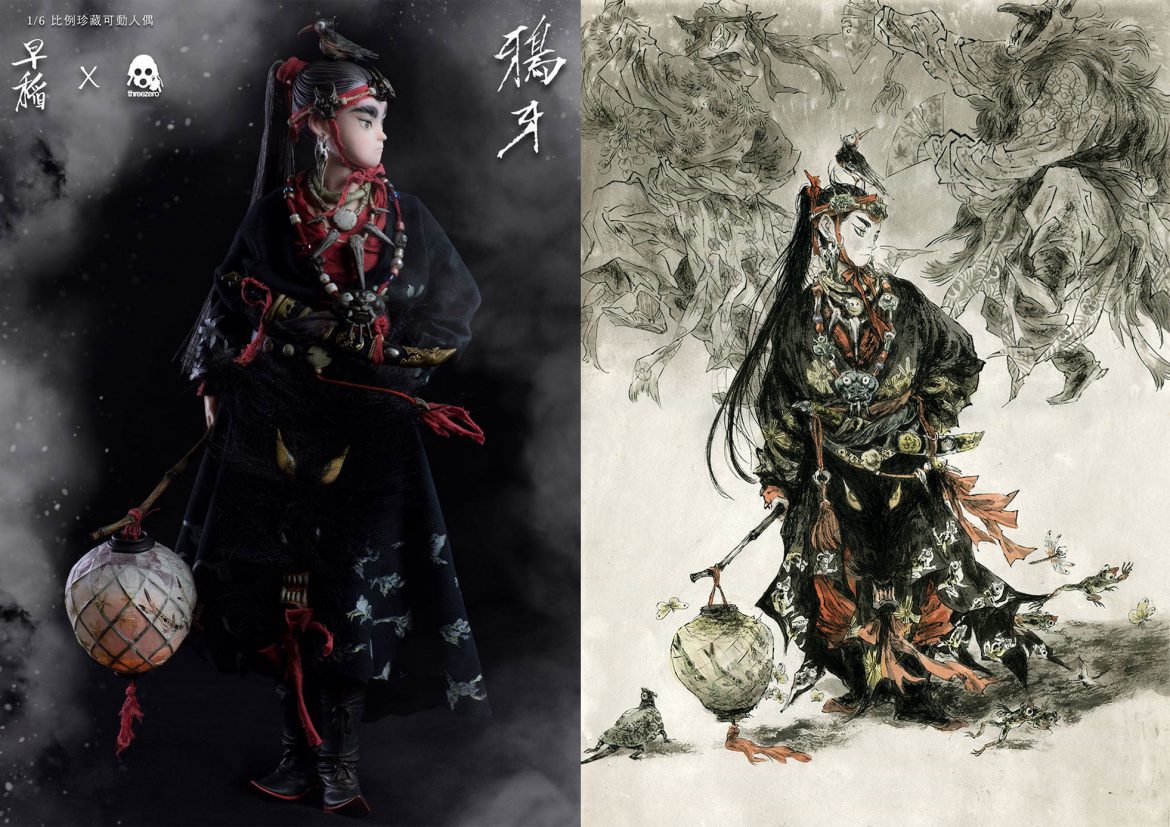 Her first artbook named "Song of Sylvan" was published in 2015, Where she introduced us to her fantasy world with her unique style of ink painting. The elves and monsters in her paintings had left a strong impression on readers around the world. Since then, threezero had begun developing a series of 1/6 figure projects with Zao Dao; leading with Crow Teeth from "Song of Sylvan."
In 2016, Zao Dao's next artbook "Ink of Wild" was published. This contained her short comic illustrations from the period of 2012 to 2016, including works from her childhood and teenage years, a chapter about the monsters she had created, a chapter about her journeys travelling, and some sketches from her previous work.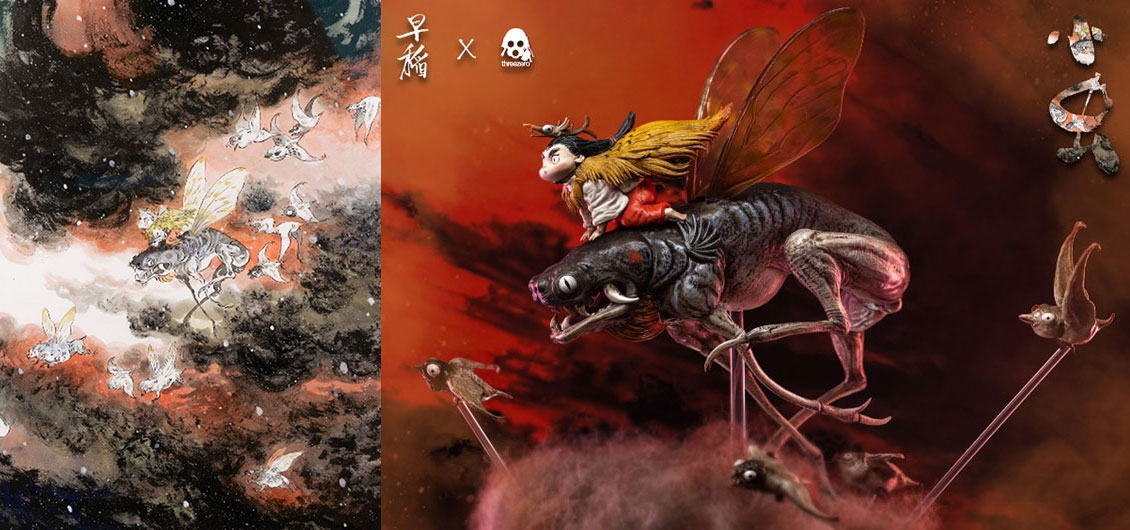 With her unique style of painting, Zao Dao has become an emerging artist in China. In 2018, threezero collaborated with Zao Dao again for the project "Little Bugs." This time, Zao Dao had shown a lively and subtle side in her work, in contrast to the moody style as she always claimed.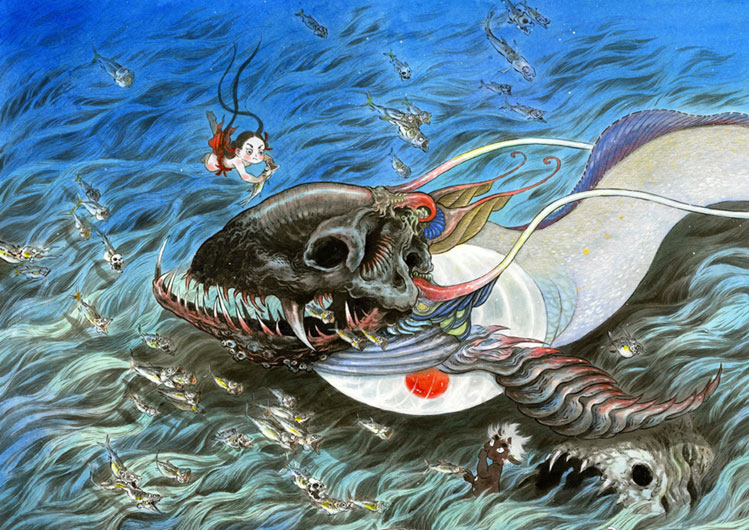 In 2021, Zao Dao's first long comic "Fishergirl and Little Sea Elf" is under developed, for which threezero is going to launch a new 1/6 project based. "Fishergirl and Little Sea Elf" is under the product line of threezeroX, which is the high-end collectibles brand from threezero in which "X" means "crossover." In addition to the Standard Edition, Zao Dao – 1/6 Fishergirl and Little Sea Elf (Deluxe Edition) will include the 6" Fishergirl and Little Sea Elf figures, a fishbone statue, an old dog statue, as well as an artbook to round out the set.
Interview with Zao Dao
Q.1 You always shares your daily life in your blog, and could feel your passion and love, how do you get so many twinkle ideas of creation?
A1: I am an introvert and always on my own when I draw. And I've begun paying attention to the interesting people and objects around me, and I want to record them down. Gradually, I have started meeting more and more great people through my work. We exchange and share thoughts; I am opening up and growing up at the same time.
Q.2 Why do you chose ink painting in your work? And what difficulties have you encountered so far?
A2: My hand was shaking so bad when I first practiced using the Chinese brush for ink painting, so I switched to fountain pen for few years. But then I felt that my work was missing the liveliness, so I picked up the Chinese brush again. Painting with the Chinese brush can give a strong sense of liveliness and I am addicted to it.
I think the most difficult thing in my career so far is to maintain my physical energy. So, I have to exercise everything.
Q3:How do you feel when seeing your work turning into sculptures?
A3: I think it's fascinating seeing the highly detailed figures which are made based off of my sketches by threezero's team. The figures look so lively and lovely.
Q4:Is your artbook a spontaneous workpiece or you have been planning it for a long time?
A4: I have been continuously working on some sketches, gradually they become some short stories and turned out to become an artbook.
Q5:Have you ever thought of turning your work into anime?
A5: I haven't thought about this at this moment, because unlike painting, making an anime requires lots of manpower and teamwork. At this moment, I will pay more attention on my next artbook first.
Q6: If you had not chosen Art as your career, what do you think you would become?
A6: I love drawing since I was a kid and all my hobbies are art-related, such as sculpting, fashion de-sign, gardening, and so on. I am a person with a lot of curiosity, I love to explore new things like food, music, sports and other hobbies, but I give them up so easily. Only drawing could keep me interested.
Q7: What do you like to do except drawing?
A7: I like hiking and gardening. I feel relaxed and alive seeing the plants grow.
Q8: The theme of your work is mainly related to fantasy world, why is it so interested to you?
A8: I think most of my work might be influenced by my childhood and the village where I grew up in. Stories with monsters and elves were so popular in the village. Also, movies involve vampires and martial arts were my favorite since the 90s, I started falling in love with these cultures. Later on, I did some research on ancient tales and found out that our ancestors had great art sense in expressing cultures and religions. Therefore, I always have this sudden impulse to create some-thing whenever I come across these ancient tales which are full of imagination. I think I will carry on this topic.
Q9:What is your inspiration for creating Fishergirl and Little Sea Elf?
A9: I don't remember the exact time, maybe couple years before the pandemic. I took my parents on vacation in a village. The environment was so calm and relax, dogs lying on the ground, palm trees growing everywhere. I saw the sunbeams reflecting on the water while snorkeling. Every-thing was so chill and mellow. I could really focus on thinking about life.
I think I really miss the time there, so it inspires me to start the story of Fishergirl and Little Sea Elf.
Q10:The style of your work recently is quite different from your previous work, have you expe-rienced something different during the time of creation?
A10: Yes, I have taken a long break before I start this project. I am now in a half guilty and half pleas-ure mood when I draw.
Q11:Could you describe the characters of the fisher girl and the little elf?
A11: The story is about the adventure of a cute and brave fisher girl Simu with a 21 years old senior dog, and the little elf Shu who likes to hide his power and wit. They like hanging out all the time.
Q12:Since you have created a lot of artworks, which one is your favorite so far? Is there any message you would like to deliver to the readers?
A12: I like all my work. I hope my readers can also enjoy the simple and mellow feelings from my work.